Ready for a Vacation? It's Panama Beach Time!
PCB Gulf-front Condo Rentals: (850) 708-1429
Whispering Seas 306- Gulf-front 2BR/2BA - Sleeps 10 - 3rd Floor; Kitchen; Balcony; W/D
Whispering Seas 306 is a newly refurbished condo combining great 3rd floor Gulf views with the ability to sleep 10 and the luxury of a King Bed in the Gulf-side bedroom. You're on Panama Beach Time -- sleep in and enjoy the view of the beach! This condo has been completely redecorated in Fall 2011 with bonus custom features, including beautiful glass tile backsplash in the fully equipped kitchen with a stylish kitchen armoire with a toaster oven with rotisserie, a free Netflix account, an Ipod/Ipad charging station, and a desk with printer, so you can print out your boarding passed and business travelers can print out that sales presentation! The living room has a flat screen TV with DVD and free Netflix account plus a Wii with balance board; and the master bedroom has a TV and DVD and the guest bedroom has a TV. With plenty of room and custom extras that make your Panama Beach Time extra special, Whispering Seas 306 is perfect whether it's for your next family beach vacation or your next business trip to Panama City Beach!
Don't fight the crowds in a high-rise! Whispering Seas is a low-rise, family-friendly Gulf-front beach resort, with a pool right on the beach, a Gulf-front terrace with 4 grills and 4 picnic tables, and free Wi-Fi. Whispering Seas has a great location on Surf Drive right off Thomas Drive. When it's time to eat, you can easily walk to Spinnaker's, Pineapple Willy's, Mellow Mushroom, Guadalajara, Hammerhead Fred's, Capt Jack's Buffet, or Red Rose Pizza. And there's plenty to do within walking distance -- take the kids to Emerald Falls for Go-Karts, putt-putt and rides, or let the grandparents do that and hang with the locals for a cocktail and free live music at Ms. Newby's, play pool or catch a band at Foghorn's, and dance the night away at Club La Vela. You're close to Wal-Mart and grocery stores and all your favorite or soon-to-be favorite restaurants and attractions, like Dee's Hangout, Bayou on the Beach, Ripley's, WonderWorks, and more. It's just a 5 minute drive to the marinas on historic Grand Lagoon where you can rent jet skis or a pontoon boat to visit Shell Island, book a charter fishing trip or enjoy a waterfront drink and dinner at Capt. Anderson's or Boatyard. Plus you can get around easily without a lot of traffic and hassle. There's a reason our regulars come back year after year! With under 20 rental units, your family can enjoy peace and quiet at the beach! Please see our Terms page for NEW reservations and pre-payment policies.
Whispering Seas 306 has a King Bed in the Gulf-front bedroom with great views of the beach; and the second bedroom has a King Bed and Twin Bunk Beds. And there's a Full sleeper sofa in the living room, plus two twin cots, so Whispering Seas 306 can sleep up to 10. The desk with a view and a printer will help you keep in touch with friends and family back home and the office. Although this is not recommended; you're supposed to be on Panama Beach Time! All of our units are non-smoking. Please smoke outside of your condo.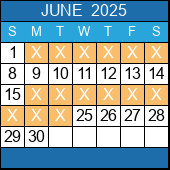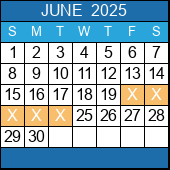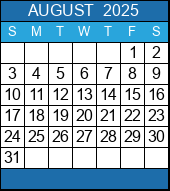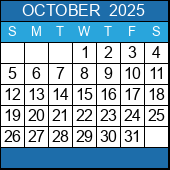 The calendar shows availability for unit 306. Click here for booking engine with availability for all of our condos. This link will display availability for all of our condos and you can select Whispering Seas 306.
© Copyright 2011, 2012, Whispering Seas Beach Rentals D.B.A. Panama Beach Time™
Panama Beach Time -- 6815 Thomas Drive -- Panama City Beach, FL 32408 -- 850-708-1429 -- reservations@panamabeachtime.com